Travel Awards & Extended Early Registration: Understanding Interventions 2014 Conference in Baltimore! May 16-18!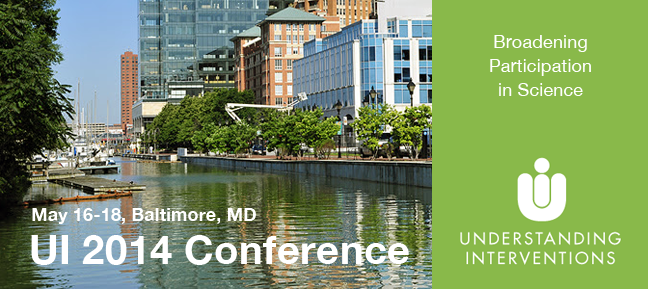 Dear Participants of the ADVANCE Hispanic Women in STEM Network,

Many of you have asked about opportunities to participate in conferences, and funding mechanisms for opportunities. Today, we have an event to share! Please see the information below regarding the May 2014 Understanding Interventions conference in Baltimore (UI 2014). This conference is a wonderful resource for learning about other ways to increase student, postdoc, and faculty participation in STEM, especially for underrepresented populations. This conference primarily attracts faculty and administrators, but they come from all over the country. In addition, several program officers from DC's agencies are often present as observers or speakers. This conference can be a great resource for new information, motivation, and networking.

Please consider an application for the travel award! The details are below, and the application for the travel award is very short, and probably won't take more than 30 minutes to complete. Our evaluators for the ADVANCE Hispanic Women in STEM project, Dr. Frances Carter, and Dr. Angela Byars-Winston, have participated in this conference. I have also participated in the past. This conference also draws other participants from a variety of programs such as NSF, NIH, NASA, etc. Please see the information that the program organizers sent below. This conference was discussed at the national ADVANCE meeting in Virginia. I have copied it here for your convenience. Again, please strongly consider an application for the travel award. I'll look forward to seeing you there!

Kind regards,

Renetta Tull

___________________________________________________

Content of the message below is the property of UI 2014
6th Annual Conference on Understanding Interventions that Broaden Participation in Research Careers
May 16-18 2014
Renaissance Baltimore Harborplace Hotel
Baltimore, MD
A limited number of travel awards are available for attendance to the 2014 Understanding Interventions Conference. These awards will cover conference registration and related hotel costs. While we will provide support to individuals at all stages of their professional development, priority will be given to graduate students, postdocs, and junior faculty.
(http://understanding-interventions.org/travel-awards/)
This conference was established to facilitate the dissemination of hypothesis-based research on interventions and initiatives that broaden participation in research related careers across science and engineering fields. The conference is designed to promote productive interactions between interventions researchers, evaluators, and those who develop and administer programs that educate and train the next generation of a diversified  the scientific workforce. Conference activities include symposia, interactive workshops, a poster session/networking reception, and plenary sessions.
2014 Conference Registration Rates
Regular Registration    Early Registration (Before March 28)
Faculty/Administrator       $395
Student/Postdoc               $295
1 Day Pass (Friday or Saturday)    $295
1 Day Pass (Sunday)    $195
Cancellation/refunds are allowed until March 31, minus a $100 cancellation fee.
Full registration include 2 receptions (Friday, Saturday), 2 breakfasts (Saturday,Sunday), and one lunch (Saturday).
Early registration rates (before March 28, 2014) are $395 for non students  and $295 for students. After March 28, regular registration rates are $495 for non students and $395 for students.
For those not attending the entire conference, day passes are available and are limited to sessions and meals for the date of the pass. Rates are $295 for May 16th or 17th, and $195 for May 18.
The conference rate for the Renaissance Harborplace Hotel is $169 per night. See the housing page on the website for reserving your room at the conference rate. These rates are for a limited number of rooms so we strongly encourage reserving rooms early.
Anthony DePass and Daryl Chubin, Co-Directors
Contact Information
Anthony DePass, Ph.D.
Long Island University
1 University Plaza
Brooklyn NY 11201